Alabama (AL)
Birmingham, AL (BHM)
Enhancing the airport experience for travelers with autism and special needs. The sensory room features soft lighting from a bubbling water wall, touchable activity panels, comfortable bean bag chairs and other features to reduce anxiety before a flight.
Arizona (AZ)
Phoenix Sky Harbor (PHX)
Did you know that America's Friendliest Airport® offers a place in its busiest terminal for people seeking a quiet setting? The Sensory Room inside the Airport Chapel, pre-security near the B Checkpoint in Terminal 4 offers a quiet space for meditation, prayer or a break from the fast-paced airport environment. Children with autism/sensory issues or young adults with an intellectual or developmental disability may visit the Sensory Room inside the Chapel for a respite from the sensory-overload that they might experience when coming to the airport. There is a child-sized table and chairs and quiet activities for children to use in the Chapel space for a respite from the sensory-overload they might experience when in the airport. The Chapel offers a quiet space to minimize sensory overload for people with hidden disabilities including Alzheimer's disease/dementia, brain injuries, anxiety or other sensory-related conditions. The Chapel offers a quiet place for all faiths to meditate.
The hours of operation are 8 a.m. – 8 p.m. daily except Saturday. Hours on Saturday are 8 a.m. – 4 p.m.
Florida
Miami, FL International Airport (MIA)
The Multi-Sensory Rooms are a dedicated space where passengers with cognitive and developmental disabilities such as autism can enjoy a calm and stimulating environment while they travel through MIA. The room includes sensory aids that stimulate reaction, encourage communication, and reduce agitation and anxiety sometimes caused by the hustle and bustle of airport travel. The rooms are located in post-security in Concourse D, next to checkpoint 4 and post-security in the H-J connector.
The Multi-Sensory rooms are open seven days a week from 6 a.m. to 10 p.m.
The rooms are located in two locatons:
Concourse D, post-security, just beyond TSA Security Checkpoint #4
and South Terminal, post-security, near Concourse J.
Georgia (GA)
Atlanta, GA (ATL)(Hartsfield-Jackson)
In partnership with Hartsfield-Jackson Atlanta International Airport and autism advocacy group The Arc, Delta launched the Atlanta Airport's first multisensory room to provide a calming, supportive environment for customers on the autism spectrum.
The room, located in a quiet space on F Concourse departure level, contains a mini ball pit, bubbling water sculpture, a tactile activity panel, and other items children can interact with to help calm and prepare them for their travel experience.
The code to enter the sensory room can be obtained by visiting any Delta Check-in counter or the Info desk located at F departures.
For more information, please visit HERE.
Louisiana (LA)
New Orleans, LA (MSY)(Louis Armstrong)
The Hidden Disabilities program provides an extra layer for those coping with issues such as autism, anxiety disorders, dementia, Crohn's disease, low vision, hearing loss, epilepsy, fibromyalgia, lupus, rheumatoid arthritis, Asperger Syndrome, PTSD, learning disabilities or mobility issues.
This program allows our staff to identify those in need of an extra level of customer service by use of a sunflower lanyard or bracelet. While they do provide a discreet signal to employees, wearing a lanyard does not guarantee fast tracking through security or any preferential TSA treatment. Passengers are encouraged to arrange any special assistance needed with their Airline or TSA Cares.
The lanyards are available free of charge at the Customer Service Desk, located by Baggage Claim, on the 1st floor. Click here for more information.
Missouri (MO)
Kansas City International Airport (KCI)
The Sensory Room is an interactive space designed to help travelers who are neurodivergent and may become overwhelmed by a bustling and unfamiliar place. Designed for those with autism, dementia or other sensory processing challenges, this space features calm, tiered and tactile-based zoned activity areas, fidget chairs, no loose objects, fully cushioned general areas and carpeted, nonabrasive flooring. The Sensory Room is open to ticketed passengers 24 hours a day, 7 days a week with no reservation needed.
New York (NY)
LaGuardia Airport (LGA)
To make travel more accessible and enjoyable for individuals with sensory sensitivities and their families, we have created a supportive and safe environment within our multi-sensory rooms.
Located at New York-LaGuardia International Airport (LGA) in Terminal C, these rooms include calming colors, sounds and activities including a small mock-up of an aircraft with seats for those who would like to familiarize themselves with air travel in a controlled environment in LGA. To receive access to either room, please look for one of our Red Coats – our elite airport customer service experts, identifiable by their bright red coats.
Ohio (OH
Akron-Canton (CAK)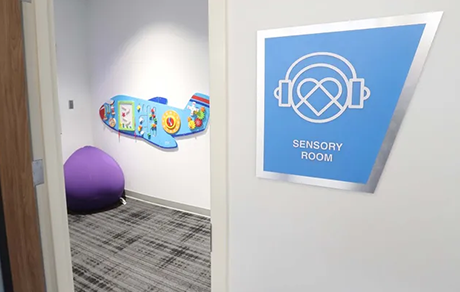 CAK is inclusive to those with sensory needs, find our new Sensory Room in the expanded concourse just before Gate 5. Our Sensory Room is filled with items that can help lessen sensory overload for travelers.
Oregon (OR)
Portland, OR (PDX)
A sensory room is a special room designed to develop a person's sense, usually through special lighting, music, and objects. It can be used as a therapy for children with limited communication skills. Autism, or autism spectrum disorder (ASD), refers to a broad range of conditions characterized by challenges with social skills, repetitive behaviors, speech and nonverbal communication. According to the Centers for Disease Control, autism affects an estimated 1 in 59 children in the United States today. According to the Autism Society of Oregon, "Autism is the fastest growing developmental disability in Oregon – and the world. If you haven't already, you will meet someone with autism." At PDX, we partnered with a nonprofit named Kulture City as well as the Autism Society of Oregon and nearly a dozen other partners to develop the space at PDX. Our sensory room is located on Concourse D near gate D10. It's open and available to passengers 24/7.
Pennsylvania (PA)
Pittsburgh, PA (PIT)
Air travel is stressful, and it can be especially difficult for individuals with autism and other neurodevelopmental challenges. Presley's Place, located just past Gate A-7, offers a calming respite for travelers with sensory sensitivities and their families to de-escalate prior to getting on a plane or even after landing.
South Carolina (SC)
Myrtle Beach, SC (MYR)
The Quiet Room at Myrtle Beach International Airport was built for people with special needs who need to de-stress and has been lauded by the Champion Autism Network for its adherence to TSA's Passenger Support services. Now, the Quiet Room is available for all travelers who need a place to relax and recharge. The Quiet Room is not intended for sleeping.
Washington (WA)
Seattle-Tacoma International Airport (SEA)
This room is provided as a calming environment for those who may feel overwhelmed, overstimulated, or find the need recenter from the multitude of sights and sounds of the airport travel experience. This is a shared amenity. Space is limited. Please be respectful of other occupants and leave the room as it was found. Children must be accompanied by adults at all times. This space is monitored by security cameras. Contact ACC at (206) 787- 7233 to report any issues.