Also See Related to Coronavirus
Video: What You Need TO Know About COVID-19
Resource Listing
I have to give credit the Allegheny County Department of Human Services, Intellectual Disability and Autism; Disability Rights, Pennsylvania; Autism Society of America; Autism Connection of PA, The Autistic Self-Advocacy Network (ASAN), and Autism Speaks for the linkage to much of the content that they have shared and in turn kept the chain rolling, so to speak.
Coronavirus Information
Understanding CDC COVID-19 Community Levels
Statwewide Autism Resources
Supporting Individuals with Autism through Uncertain Times (AFIRM)
COVID-19 Related Social Stories
Vaccine Information
Plain Language
Explaining Social Distancing
The Centers for Disease Control and Prevention recommends social distancing to taper the current pandemic. Here are some resources on social distancing for individuals and professionals. If you need additional resources in understanding this concept, one of the following recommendations may help.
Other COVID-19 Related Resources
Mental Health
These next resources are provided by Jewsih Community Federation Services in Pittsburgh, PA
Other Mental Health Resources
Relaxation and General Coping Resources
Virtual Support Groups
Telehealth Resources
Other Mental Health Resources
COVID-19 Fatigue and Mental Health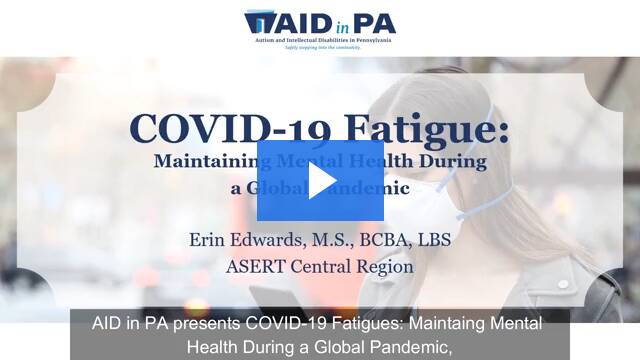 School & Learning
Educational-Related Social Stories
Modifying Routines
The sudden change to telework and virtual learning has required many of us to make drastic, unplanned changes to our daily routines.
Schedule Changes
Use social stories to explain changes to routines and/or social situations (usage of pictures, props, or symbols may be helpful)
Allot extra time in your schedule to accommodate changes
Use time tables, clocks and charts to explain what times schedule changes will occur
Make small changes as an initial change, to avoid feeling overwhelmed
Reward flexibility
Create a calm down or decompression routine
Social Stories (Indiana Resource Center for Autism)
Other Resources
Contact your healthcare provider if you have any concerns about receiving regularly scheduled medical care
Food & Nutrition
COVID FRIENDLY WINTER ACTIVITIES
Staying Connected